Help us light up the harbour with your boat or home this Christmas for a spectacular Sovereign Shines in aid of three amazing local charities. 
Now in its eighth year, Sovereign Shines will bring a magical light display to the harbour for all to enjoy. Little and pretty, home-crafted, festive scene or extravagant – the mission is to get as many Sovereign Harbour boats and houses involved.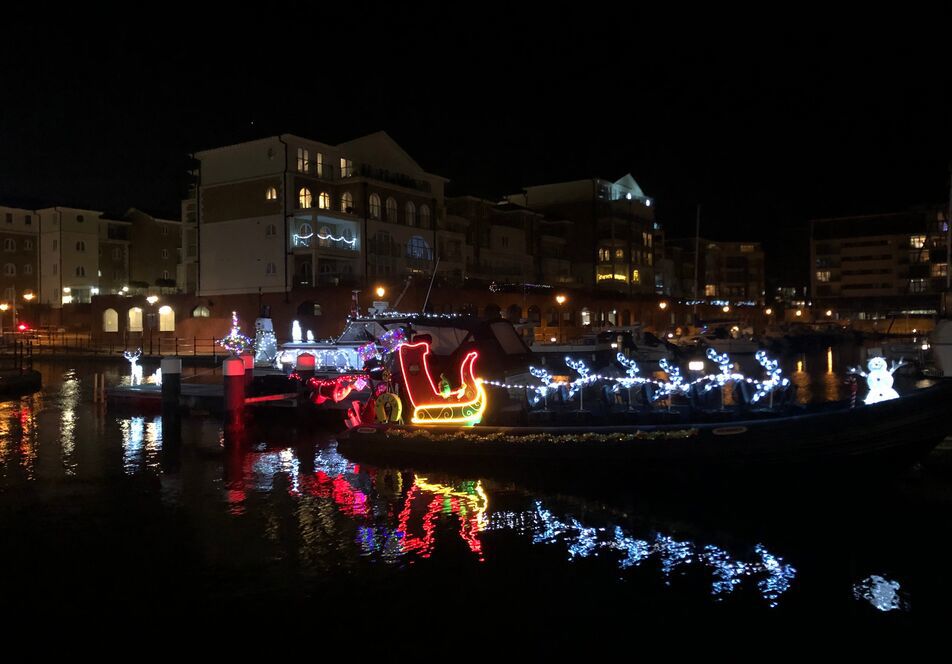 With some fantastic prizes to be won including a lift, high pressure wash and launch, luxurious Christmas hampers and more, co-organisers Premier Marinas, the Sovereign Harbour Berth Holders Association and The Rotary Club of Sovereign Harbour are fundraising for the local RNLI Eastbourne Lifeboat, Defiant Sports and Eastbourne Dementia Action Alliance.
To enter simply complete your details on the application form and decorate your house or boat as festively as possible, remembering to send a photograph of your masterpiece to sovereignshines@eastbournewaterfront.co.uk along with your address details/pontoon berth number.
REGISTER YOUR BOAT OR HOME
Lights will need to be up and registered by Friday 8th December in line with our onshore Sovereign Shines festive entertainment. This will help us to ensure that your display is included in the judging which will take place from 8th to 10th December 2023. Boats registered and seen to be illuminated will have the chance to move onto a berth with free electricity to help us light up the harbour*.
Winners will be announced the week of 20th December via email. Please be kind to your neighbours and switch your lights off by 10pm. All online donations made will be distributed equally between the three chosen charities.
*Limited berthing available on the pontoons with electricity offered for free by Premier Marinas and will be offered to selected boats registered and illuminated by Friday 8th December. The selected boats will be contacted directly by the Premier Marinas Sovereign Harbour team.
Newsletter sign up
Be the first to find out about our upcoming developments, the latest news from our sites and our seasonal offers.