Friday 19th May saw the official opening of Premier Marinas' new marina and boatyard at Noss on Dart. Premier Marinas purchased the 37-acre site out of administration in 2016 with support from owners the Wellcome Trust.
Premier Marinas CEO Pete Bradshaw was joined by Anthony Mangnall MP and the Mayor of Dartmouth, Cllr. David Wells to officially open the marina - celebrating the completion of phase one of the development at Noss on Dart.
The regeneration of the site generates socio-economic benefits including 260 local construction jobs, a commercial space which would offer up to 174 gross additional jobs once fully operational and up to 100 jobs supporters across South Hams. It will also introduce a new residential population of 400 - building a thriving community once again and create household expenditure of up to £4 million per annum.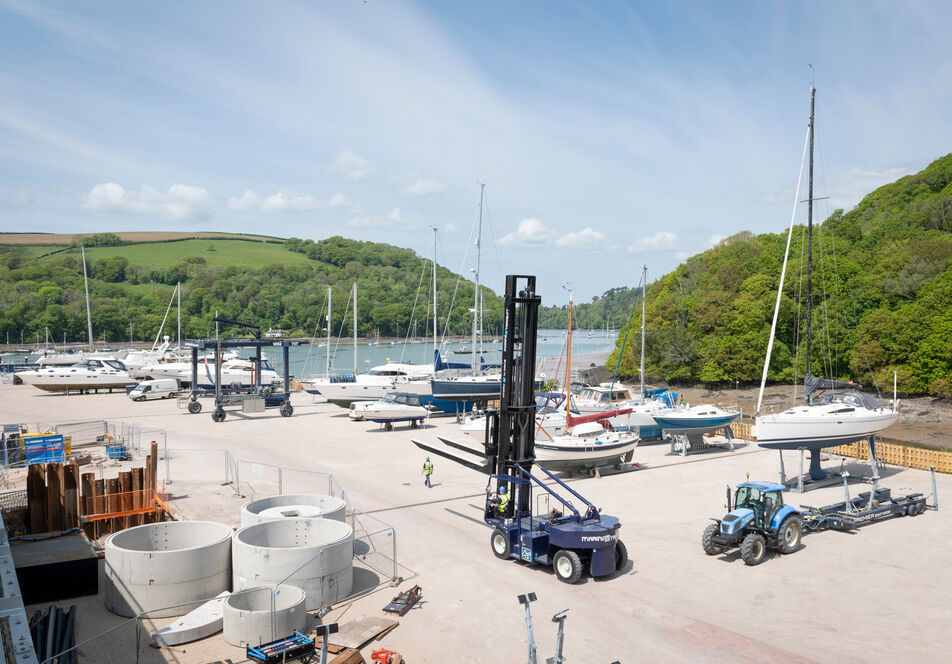 The 232-berth floating marina is complemented by a full-service boatyard with 75-tonne travel hoist, a dry stack for over 100 boats and luxury berth holder facilities including a lounge with panoramic views of the River Dart. An onsite café will open soon and the recently launched 'Noss Ferry' connects people with Dartmouth Town.
Some 23 commercial buildings provide a home for the South Devon College Marine Academy and a hub for a range of marine and leisure services.
£34M investment to date covers all the above plus significant infrastructure projects such as a new road bridge across the railway, an electricity substation, a multi-storey car park and the provision of a public car park for users of the Dart Valley trail which passes behind the site.
Phase two of the regeneration has already commenced with a planned further £45M+ investment to include a 69-room boutique hotel, 41 riverside apartments and central plaza. Beyond this, there are three further sites with planning consent for 78 residential dwellings. Potential buyers are invited to register their interest at www.nossondart.com.
The redevelopment has allowed Premier to introduce many environmental initiatives such as extensive solar power generation on all buildings, wildlife-friendly lighting, an innovative FiltaBund boat wash recycling system which prevents contaminated run-off being released into the river, 12 electric vehicle chargers and the planting of a green wall around the car park.
Noss on Dart has maritime heritage dating back to the early 1800's. It was once the biggest employer in the area with over 1500 craft launched including lightships, minesweepers, coasters and yachts including Chay Blyth's 'British Steel' famous for being the first to sail non-stop westwards around the world in 1971.
Newsletter sign up
Be the first to find out about our upcoming developments, the latest news from our sites and our seasonal offers.